Top 6 Uganda safari destinations To Visit in 2022 
Are you looking forward to experiencing the top most fascinating Uganda Safari destinations in this 2022 – 2023?  Uganda is one of the famous tour destinations in Africa blessed with a diversity of intriguing tourist attractions, although most of the travelers have not yet discovered her as the among best destinations in the world. It is important to note that Uganda is home to ten Safari parks which is the star attraction for Uganda Safaris to almost all travelers. A tour to Uganda Safari park offers travelers chance to enjoy a wide range of fascinating safari activities namely; Game viewing, mountain gorilla trekking, Chimpanzee trekking, cultural encounter and the presence of over 1000 bird species accelerating the bird watching adventure as well as, unique mountain trekking safaris to the snow-capped Rwenzori mountains, then enjoy a tours to the source of river Nile in jinja, canoe ride on lake Bunyonyi and many others.
Here Mumwe Global Safaris, we are more than delighted to present you the top 6 Uganda Safari destinations you must consider visiting while on a Uganda Safari in 2022 to 2023;
 Bwindi impenetrable forest National Park
Bwindi Impenetrable Forest National Park is situated in southwestern region of Uganda, it is one of the top leading Uganda Safari destinations that is known for gorilla trekking experience. Bwindi Impenetrable forest National Park is bisected into four sectors which are known as gorilla trekking sectors, namely; Nkuringo, Buhoma, and Rushaga sector in the southwestern part of the park and Ruhija sector in the Eastern part of Uganda. There about 21 habituated gorilla families in Bwindi forest which have made this park famous for both gorilla trekking and gorilla habituation process. Some of the habituated gorilla families include; Nkuringo, Mubare, Rushegura, Busingye, Habiyanja, Bitukura, Oruzogo, Christmas party, Kahungye among others.  Bwindi Forest National Park features over 450 mountain gorillas with over 21 habituated gorilla families available for gorilla trekking. Gorilla trekking in Bwindi impenetrable forest National Park is limited to only 8 people per gorilla group or family per day and only a person of 15 years and above are allowed to go gorilla trekking in Bwindi Impenetrable Forest National Park. The gorilla trekking permit in Bwindi Forest costs USD700 per trek per person. Travelling looking for one of the top Uganda Safari destination this season, then you shouldn't miss tour to Bwindi Impenetrable Forest National Park.
Kidepo Valley National Park
The Kidepo Valley National Park is situated in between the rugged regions of Uganda, Sudan, and Kenya. The park was opened in 1958 and gazette as a safari park in 1962. Managed by the Ugandan Wildlife Authority, the park is home to 77 mammal species and 475 bird species. Also known as the Whispers of the Wilderness, Kidepo valley National Park is an ideal place for game viewing experience on a Uganda Safari. A Road trip to Kidepo Valley National Park offers you chance to enjoy many enthralling Safari activities like game viewing, cultural encounter and get lost in the mesmerizing views of the park among others things to do.
Queen Elizabeth National Park
The Queen Elizabeth National Park  – the second largest and oldest safari park is one of the most visitedUganda Safari destination. It covers an area of 1,978 square kilometers and it is famous home to the tree climbing lions in Ishasha Sector plus the huge number of impressive wildlife species. Like; lion, African bush elephant,  African buffalo, warthogs, waterbucks the notables are African leopard, hippopotamus, Nile crocodile among others. There is a lot to enjoy on a Uganda Safari in Queen Elizabeth besides wildlife viewing, you grab chance to delight in a breath taking boat cruise on Kazinga Channel, chimpanzee trekking Kyambura Gorge, explore the crater lakes among other thrilling attraction. With no doubt Queen Elizabeth national Park is a must visit Uganda Safari destination, we guarantee you unforgettable long lasting memories.
Murchison Falls National Park
This is one of the top Uganda safari destination that you should not miss while planning for a road trip in her motherland. Murchison Falls National Park is known as the biggest Safari Park and its among the most visited park in Uganda blessed with a lot of enchanting safari activities that should never miss on your lists of things to do on your Uganda Safari. Murchison falls National Park hosts over 76 mammals including the African big 4 animals namely; lions, leopards, buffaloes, and elephants. On your Uganda safari to this park you can choose to enjoy Rhino tracking at Zziwa Rhino conservation) thus giving you a chance to experience all the big five animals.
However besides, the big fives animals, other stunning wildlife include; waterbucks, Nile crocodiles, hippos, warthogs, Uganda kob, Hyenas, Giraffes, dikes,  Jackson's hartebeest among other animals. A Uganda safari to Murchison falls National Park gives you chance to groove on exciting primates including the impressive numbers of Chimpanzees in Budongo forest, black and white Columbus, red tailed moneys, L'Hoest, olive baboons among others.
Birders are not left out in Murchison falls National Park as the park is home to more than 450 bird species recorded including the rare shoebill stock and 23 Albertine rift endemics which makes Murchison falls National Park interesting for bird watching. Other activities such as boat cruises and hot air balloon safaris can be done here.
Lake Bunyonyi
Lake Bunyonyi is famously known as a place of many little birds, it is one of the loveliest, peaceful and magnificent lakes in Uganda blessed with 29 beautiful Islands. Many travelers love to visit Lake Bunyonyi especially the bird watchers and clear waters that are crocodile and hippo free thus giving you chance to enjoy swimming in the freshwaters. A Uganda Safari to Lake Bunyonyi offers you chance to enjoy a thrilling  boat rides that takes you to enjoy the perfect scenic views of the lake.
Lake Bunyonyi is situated in the south western region of Uganda between Kibale and Kisoro district close to the border of Rwanda and Uganda. Lake Bunyonyi stretches about 25km in length and 7km in width while the depth is esteemed to be about 44m. Lake Bunyonyi is among the most visited Uganda Safari destination in the "Pearl of Africa". This is due to the Lake's natural wonders including the green terraced height that reaches a height of about 2,478m. The key spectacular scenery of this Lake is the presence of the 29 islands of different sizes that are dotted all over the waters of Bunyonyi lake. In the morning, the atmosphere is filled with cotton-like streams of mist and in the afternoon get to have a warm glow of the sun.
Jinja city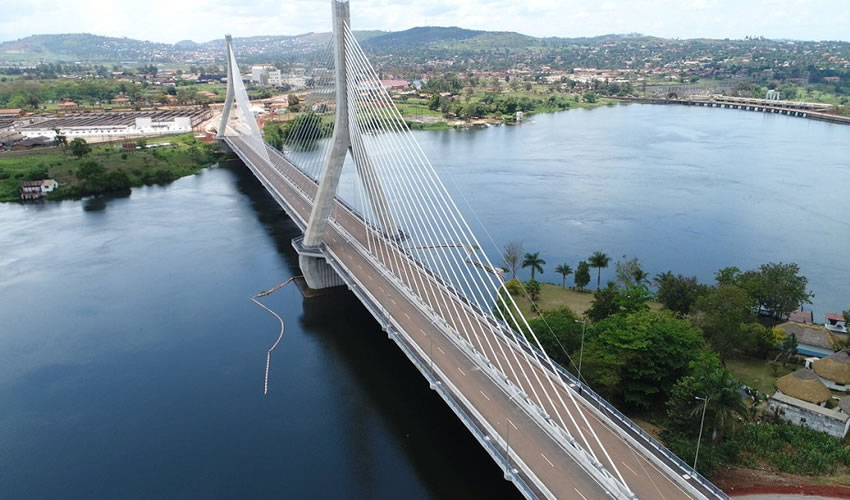 Jinja is a beautiful city found in Eastern region of Uganda on the northern shores of Lake Victoria; it is an industrial city that was established in 1907, it is among the exciting cities in the Uganda besides Kampala. The city is hosts to a diversity of thrilling adventure activities that have influenced many tourists to visit the place.  It is paramount to note that the strategic location of jinja has made the town a star attraction that is worthy to explore on a two-day or one-day Uganda safari.
One of the interesting facts about jinja is that it hosts the historic source of the Nile which is one of the star attraction reasons why many travelers love visiting the place. The city is popularly termed as the "Adventure Capital of Uganda" since it is a famous hub destination for lots of interesting adventure activities namely; white water rafting, bungee jumping, boat cruise to the source of the Nile, horse riding, tubing,  and many more.
If you are planning a Uganda Safari to the above top safari destinations can be ideal for your next roundtrip in the country, contact our travel experts on info@mumwesafarisuganda.com or call us directly on +256-700135510/ +256-414699459