The 3 Best Destinations In Africa For Gorilla Safari Adventures
There are two of the best destinations to gorilla safari in Africa and this is the misty Bwindi Impenetrable National Park in southwestern region of Uganda as well as Volcanoes National Park in northwestern Rwanda Virunga mountain ranges. This fascinating site features the best conservation and sustainable programs wrapped around gorilla trekking adventures plus great infrastructure, including some of the best jungle experiences for a memorable vacation getaway in the far remotest parts of Africa.
It is important to note that the best five countries that Uganda, Rwanda, DRC, the Republic of Congo, plus the Central African Republic (CAR)offer the best adventures to see wild gorillas in Africa. These destinations have excellent tourism infrastructures which favor gorilla trekking adventures.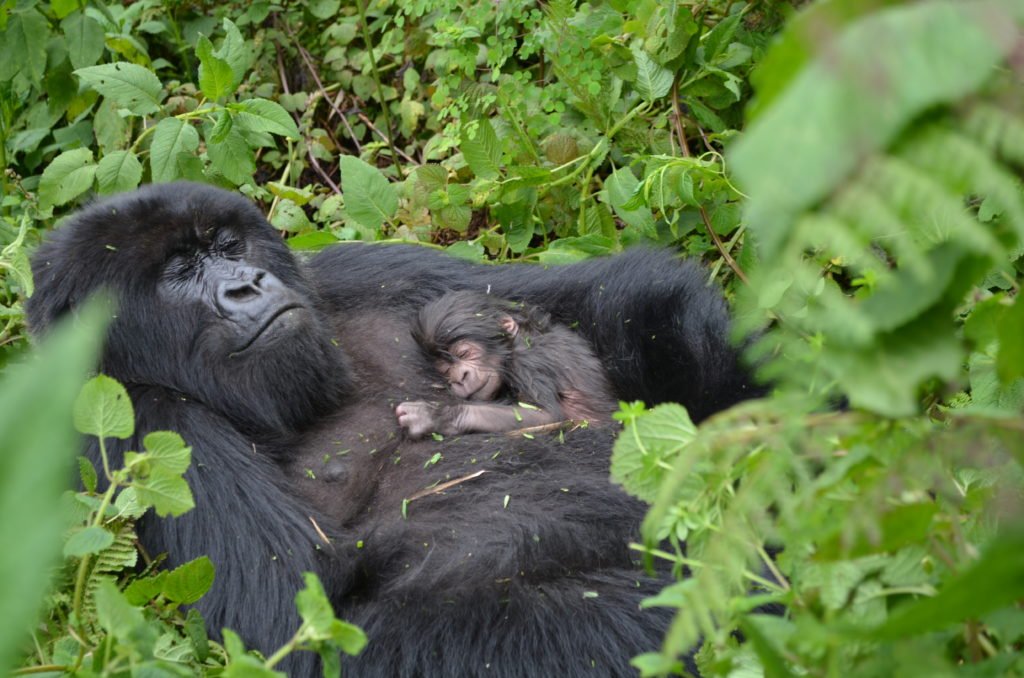 Interesting facts about the Gorilla species in Africa
Gorillas are giant charming primates with a gentle character in the wilderness.
They feature many human-like behaviors, lifestyles and lifestyles, and emotions like laughter and sadness.
Just like the chimpanzees and baboons who are our closest living cousins, gorillas share about 98.3% of the human genetic code.
They have a stocky, with broad chests and shoulders, large, human-like hands, and small eyes set into hairless faces.
They live in primitive human-like family groups of usually 5 to 30 plus, led by a dominant adult male called a silver-back. The bond between the silverback and his females forms the basis of the gorilla's social life.
GORILLA SAFARI DESTINATIONS IN AFRICA
Uganda

– The Pearl of Africa
Without a doubt,  the best place to see wild mountain gorillas in Africa is obviously in Uganda's two mountain jungles. Bwindi Impenetrable National Park, home to almost half of the mountain gorilla population, and Mgahinga National Park, close to Rwanda's Volcanoes National Park and DRC's Virunga National Park. Between the two parks, more than half of the world's mountain gorilla population finds refuge hence making Uganda a top destination to see mountain gorillas within their protected natural environments.
Rwanda

– The Land of a Thousand hills
Apart from gorilla trekking in Uganda, the second-best place to see wild gorillas in Africa are in Rwanda, along the slopes of the Virunga Mountain ranges, where almost half of the world's population calls it home. The Virunga ranges are shared between Uganda, DRC, and Rwanda. although Rwanda's portion of the Virunga is protected under Volcanoes National Park, and within the park are twelve (12) human-habituated gorilla family groups available and ready for gorilla tourism.
To trek Rwanda's wild gorillas, you drive northwest about two hours from Kigali capital city on a well-surfaced road and spend a night in a lodge within the Kininigi area, a small town spread on the foothills of the volcanoes National park.  Here you'll find a wide range of vacation and camp options from budget home-stays to upmarket luxury forest getaways to match your travel budget.
The Democratic Republic of Congo
Few tour operators in Africa would recommend watching Africa's wild gorillas in the Democratic Republic of Congo because of its never-ending civil wars on the borders with Rwanda and Uganda. However, DRC is another best place to see gorillas in Africa, it's more adventurous, and cheaper compared to the two countries Uganda and Rwanda in case you would love to go gorilla experience in the country.
DRC is the only country in the world where you can encounter western lowland, eastern lowland, mountain gorilla species, and good-enough gorilla tourism infrastructure. If you manage to navigate the logistics, the chances of seeing Africa's wild gorillas in DRC are about  20% for western lowland gorillas, 60% for eastern lowland gorillas whilst 98% for mountain gorillas species.
Planning a gorilla safari in Bwindi forest, Volano or Virunga park and would love to book transportation, accommodation and gorilla trekking permits, we at Mumwe safaris will be more than delighted to offer you our services.  You can contact us for more details at info@mumwesafarisuganda.com or speak to our travel consultants at +256-700135510/ +256-414699459.